In light of the Beirut explosion, Beirut Marathon is organizing a global virtual run to support the victims by donating 100% of the proceeds to the Lebanese Red Cross. RUNNINGSerbia as Beirut Marathon's strategic partner is starting campaign in order to mobilise as much runners in Serbia and the region as possible to run and donate therefore support those in Lebanon who are in need the most! Please participate and help us to spread a word about the virtual run Embrace Beirut! #EmbraceBeirut
For internationals
: Register & donate HERE & run between October 1st & 8th
If you want to donate, please do so directly to the Lebanese Red Cross LBP account on: https://supportlrc.app/wire-transfers/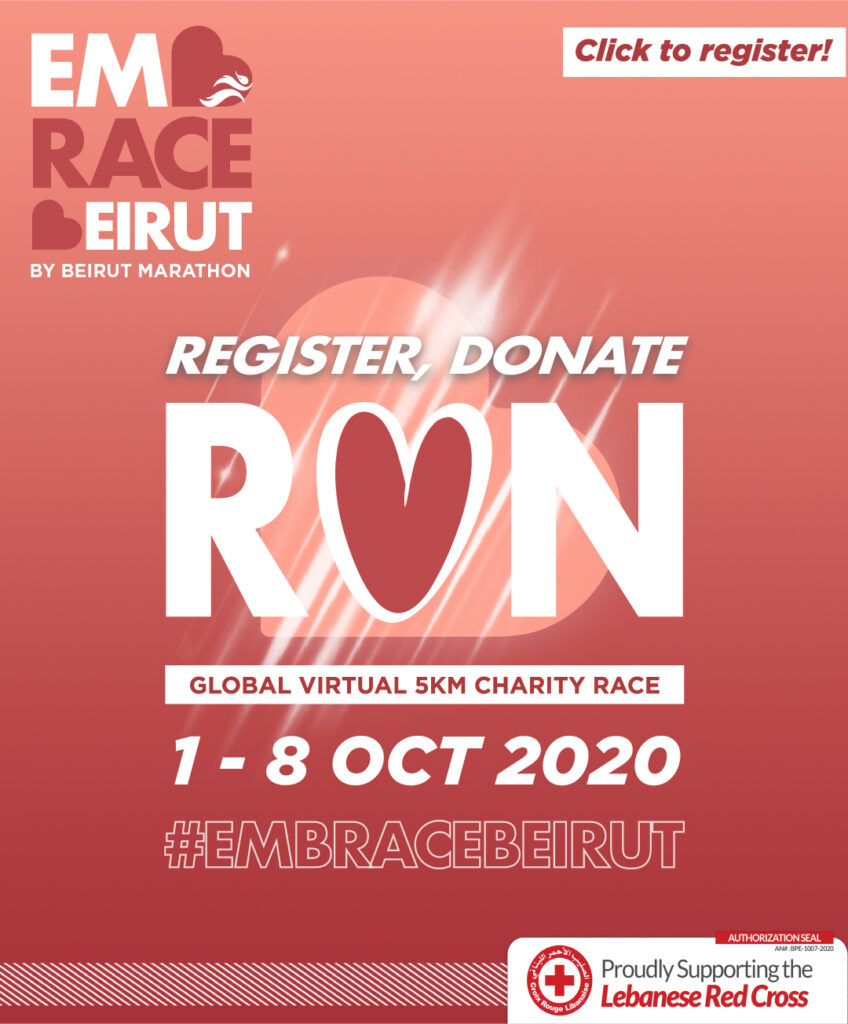 14th September 2020

"Dear friends,

On August 4th, 2020, Lebanon witnessed the fifth biggest explosion reported in
human history in the Port of Beirut. It claimed hundreds of lives, wounded more than
5,000 and left more than 300,000 Lebanese without shelter. It also caused total
material and infrastructural damage to the majority of Beirut amounting to billions of
Dollars.
At a time when Lebanon was already bleeding economically and financially due to
the inflation of the Lebanese Lira and Covid-19 pandemic, it is now literally bleeding
with human loss, destruction, and desolation.
Today, Lebanon is at its darkest period and its citizens are reeling under the
catastrophe that has hit our country. For Lebanon to start healing its wounds and
start its recovery path, a global effort is needed.
To that end, Beirut Marathon Association has organized a global virtual
noncompetitive 5KM charity race in support of the Lebanese Red Cross who has
done the much-needed emergency and humanitarian work on the ground and
continues to first handedly aid victims of the explosion.
In addition to reaching out to all Lebanese and friends of Lebanon around the world,
we are also approaching global, international and regional companies to ask for
assistance by helping us mobilize their employees to register to run in aid of our
country.
Our aim is to ensure that the people of Lebanon, who are most impacted by this
catastrophic explosion, are supported in these difficult times.
We are respectfully approaching your entity in the hope that you would help
Lebanon by promoting this event amongst your communities. With your help, we aim
to reach the greatest number of participants worldwide.
Registration starts on September 17th and will continue for 3 weeks while donors can
run at their convenience between the 1
st and 8th of October 2020. Minimum fee is 30$
with the option to donate more to the cause. All proceeds with no exception will be
donated to the Lebanese Red Cross.
We sincerely hope that we can count on you to support the Lebanese people in their
darkest hour.
Thank you for your consideration and we look forward to hearing from you and stand
ready to assist with any additional information. Kindly find in this folder the
necessary communication and branding assets or guidance for your use starting
September 17th. Time is of the essence.

Best wishes,
May El Khalil
President"
Beirut Marathon Association"