Beirut, January 15 2018.
Last night, on January 15, the Memorandum of Cooperation between the Beirut Marathon Association from Lebanon and the RUNNING Association from Serbia was signed at the ceremony organized by the Beirut Marathon Association. Signatories of this important document in the field of recreational running are May El Khalil, founder and president of the Beirut Marathon Association and Milena Berić, founder and president of the RUNNING Association.
The intention of the Memorandum of Cooperation between the two organizations is to build bridges and enable mutual benefits, exchange knowledge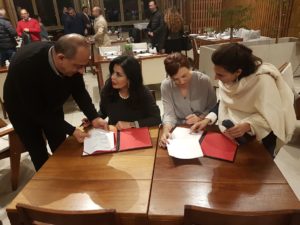 and expertise. It provides support to the initiative and collaboration through a series of activities aimed at intensifying contact between the runners communities of the two countries with the ultimate goal of establishing regular exchange of runners as well as the development of local racing communities. Finally, the Memorandum of Cooperation aims to promote both countries and their sports content through active and engaged campaigns.
The first step in this cooperation will be the visit of May El Khalil and the delegation of the Beirut Marathon to Belgrade and the region of former Yugoslavia in order to create optimal conditions for the participation of a number of runners in the forthcoming Beirut Marathon in November 2018.
Beirut Marathon is the largest sports event in the Middle East. It was founded in 2003 when 6000 racers from 49 countries took part in the race. At the latest marathon in 2017, over 50,000 runners from 105 countries took part. For fifteen years, the Beirut Marathon Association has developed a number of races, humanitarian programs and content aimed at unifying people and creating a common platform in the complex multiconfessional and multicultural society of modern Lebanon.
The RUNNING association was founded in 2012 when a free running school for children was launched. This was followed by an international cooperation program aimed at providing more favorable conditions for participation in international races for all runners from Serbia. AK RUNNING is dedicated to the promotion of running, organizing training (10RUNNING preparation program) and sports events (Color RUNNING race, Košutnjak Challenge Race with obstacles), primarily promoting the recreational sport and healthy lifestyles in a unique and modern way.